In order to ensure the maximum number of responses to surveys, Explori has updated the email upload and distribution process. For all surveys distributed from the Explori platform, all email addresses will be verified via third-party software to ensure the email address is valid. This is very similar to the process that email tools like Mailchimp and Adestra use when you upload a new list of subscribers.
The benefits to Explori users are as follows:
Eliminate hard bounces
Hard bounces are usually driven when an email address no longer exists (for example when an employee has left a company), is 'fake' or spelt incorrectly, or is closed by the user. By verifying uploaded emails, we are aiming to significantly reduce the amount of survey emails sent to users that respond with hard bounces.
Reduce spam complaints
Sending only to valid email addresses reduces the likelihood of spam complaints from email service providers, ensuring Explori's email reputation remains high. This will also ensure survey emails are less likely to end up in spam/junk inboxes.
Protect Explori's email domain from blacklists
Sending only to valid email addresses ensures Explori's email domain is not blacklisted by popular spam lists used by email service providers, so emails will continue to be received by respondents.
Increase the level of survey responses
By improving the deliverability of Explori survey emails via the steps listed above, more respondents will receive the survey email in their inbox and in turn, lead to a higher number of survey completions.
By verifying all emails uploaded into Explori, along with using some of our best practice tips below, these updates are designed to improve the deliverability rates of survey emails and in turn give a higher overall response rate.
How does the process work?
After the emails have been uploaded into Explori each email address will be verified to ensure each email is valid.
All emails which are not valid will be flagged in Explori and removed from the email schedule and you will be able to download these emails from the Distribute > List page. Once verified, sending your survey via the Explori platform remains the same.
The verification process will take some time to complete, typically 10 minutes for small lists and around 45 minutes or more for larger email lists (around 75,000 contacts in our tests). As such we suggest uploading your list in good time before your target send time.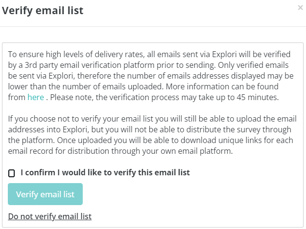 Once your list has been uploaded, you have three approaches to how to proceed with launching your survey:
Set and forget: Whilst verification is in progress, schedule the email to be sent at the earliest possible time and Explori will send your survey out as soon as verification of your list is complete.


Verify and send: Schedule a time at least 1 hour in advance of when you upload your registration data - that way, your emails should be sent at the desired time.


Verify and then schedule: If you are in a position to upload your data well in advance of your send date, then we would recommend doing this, and then choose a date and time to launch your survey.
What if I do not agree to having my emails verified?
If you do not agree to having your emails verified, then you will not be able to send your survey emails out via Explori's email platform. However you will be able to upload your registration data into Explori, including pre-populated data, and then be able to export out the unique survey links to be sent in your own email tool.
Otherwise if you do not wish to upload your data into Explori at all, then you can create campaign links and send your survey out in that way.